Nun, der  Sommer wollte sich ja nicht richtig entfalten, hier auf Lanzarote fängt er grérade erst an. Darum sind wir richtig heiss drauf unsere neuen Kollektionen Decontaminated, Stolen Sand und NEOKEYS vorzustellen!
Finalmente el verano se ha desarrollado así que estamos muy caliente a presentar nuevas colecciones Decontaminated, Stolen Sand y NEOKEYS!

Summer is kicking in so we proudly present our new collections Decontaminated, Stolen Sand and NEOKEYS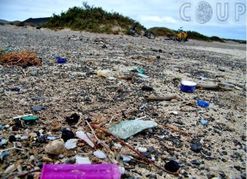 Wir genossen zwei tolle Strandsäuberungsaktionen in Famara! Während unserer Sommerferien in Basel Performte Tobi aka T.P.Pain am III Go!C!Art Minimal Festival of Diversion @ cargobar in Basel. Speziell zu erwähnen ist die Performance Schmerzensgeld des Künstlers Reza Alikhani. T.P.Pain säuberte das Rheinbord vor der cargobar auf eine andere ART, die dreistündige Trashstuntperformance BEACHCLEANUP ARTBasel war einfach der Hammer!  Danke Frank und danke cargobar! Nun sind wir zurück auf der Insel und reinigen grad eben mal den Strand, bald geht´s los, checkt das Programm!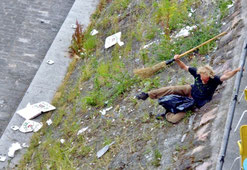 Disfrutamos  dos grandes limpiezas de playa en Famara! Durante nuestras vacaciones de verano en Basilea Tobi alias T.P.Pain fue parte del III Go!C!Art Minimal Festival of diversion @ cargobar.  T.P.Pain limpiaba la ribereña del Rin en otra manera,  tres horas Trashstuntperformance BEACHCLEANUP ARTBasel  era simplemente increíble! Gracias Frank y gracias Cargobar! Ahora estamos de vuelta en la isla y limpiamos la playa, ahora aquí vamos, mira las Eventos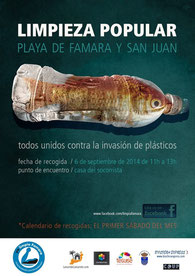 We enjoyed two great beach cleanups in Famara! During our summer holidays in Basel Tobi aka TPPain performed atIII Go!C!Art Minimal Festival of diversion @ cargobar. TPPain cleaned down by the riverside of the Rhine, the three-hour Trash Stunt Performance BEACHCLEANUP ARTBasel was simply amazing! Thank you Frank and thanx Cargobar! Now we are back on the island and it seems to be needed - clean the beach - now here we go, check the Events!